DR. RAMAKRISHNAIAH T N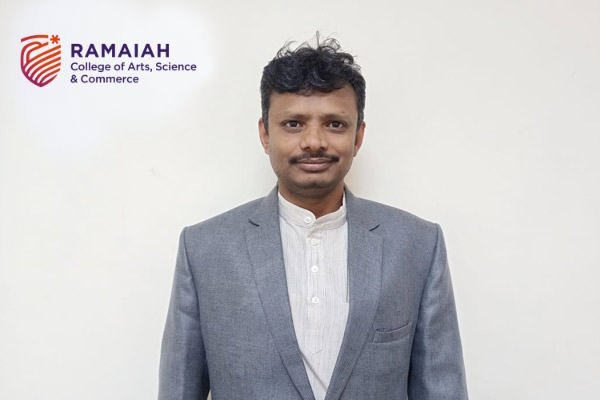 ---
Qualifications: M.Sc.(Gen.), M.Sc.(Zo.), B.Ed., M.Phil., KSET., Ph.D.
Department: Department of Biotechnology / Genetics
Designation: Assistant Professor,IQAC cooridinator and YRC Program Officer
Years of Experience: 14.5 Years
Email: rama_biotech@msrcasc.edu.in / ramakrishnaiahtn@gmail.com
RESEARCH PUBLICATIONS
DNA SEQUENCES PUBLISHED IN NCBI DATA BASE
| Sequence ID | Type | Date of publication | No of Sequences |
| --- | --- | --- | --- |
| MT453908 – MT453914 | ITS2 | May19th 2020 | O7 |
| KX657841 – KX657842 | COI | Jul 29th 2017 | O2 |
| KX587519 – KX587534 | COI | Feb 23rd 2017 | 16 |
| KX694132 – KX694147 | ITS2 | Nov 12th 2016 | 16 |
| KT285933 – KT285939 | ITS2 | Dec 27, 2015 | 07 |
Note: Total of 48 Sequences are published
Fluorescein Amidite (FAM) based RAPD barcodes for genetic analyses of mango (Mangiferaindica) genotypesPratibhaRamadasappa 1, ShivashankarMallaiah2,*Ramakrishnaiah T N 3. Advances in Bioresearch Adv. Biores., Vol12 (1/2) 2021. (Accepted for publication). (UGC App). (Web of Science)
Utility of RAPD profiling for genetic variations in spiders (Araneae: Oxyopidae). T.N, Arunkumar. S, Journal of Entomological Science IJE 19020/August 2019– (UGC App).(Scopus/Web of Science)
Morphometric analysis of Oxyopid spiders (Araneae: Oxyopidae) of Karnataka T.N, Arunkumar. S, Ramakrishna.S and Jayaprakash. Journal of Entomological Science (2018) IJE 16038/January – 2018 DOI Number:10.5958/0974-8172.2018.00075.5 (UGC App). Scopus/Web of Science)
Banu, S., & Ramakrishnaiah, T. N. (2018). Screening of Garcinia cambogia for in-Vitro Anti-Cancerous Activity against Colon Adenocarcinoma (Caco-2) Cell Line. Research Journal of Pharmacognosy and Phytochemistry, 10(4), 272-276.
Institutional social responsibility in Community outreach activities: A case study on M S Ramaiah College of Arts Science and Commerce. T.N, A Nagrathna De Paul Journal Of Scientific Research – 2016 ISSN-2394-4412, EISSN-2394-2509.
Impact of urbanization on population dynamics of spider species in Bangalore T.N, Ramakrishna.S and Jayaprakash. Journal Of Entomology And Zoology Studies ISSN 2320-7078 JEZS 2015; 2 (6): XX-XX 12-01-2015.
Evaluation of genomic DNA spin-50 method for amplification of ITS2 gene in spiders. T.N, Ramakrishna.S and Jayaprakash. International Journal Of Zoology And Research (Ijzr) ISSN(P): 2278-8816;ISSN(E): 2278-8824 Vol. 5, Issue 4, Aug 2015.
BOOK PUBLISHED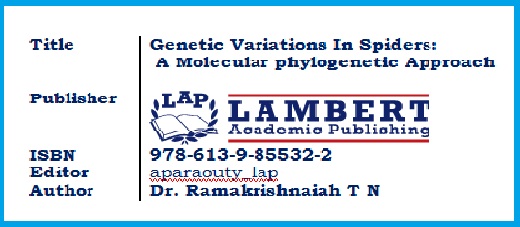 PRESENTATIONS
ITS2 sequences as barcodes for identifying and analysing OXYOPIDAE SPIDERS(ARACHNIDA: ARANEAE) "International Multidisciplinary Academic Web Conference, 29 and 30th May 2020"Surana College Peenya Campus, Bangalore.
International conference on Life,Chemical, and Health Session/volunteered in the (ICLCHS) organised by RCASC from 24th -26th October, 2019.
Criteria – I Curricular Aspects One day NAAC sponsoredNational Level Seminar on "New Methodology of Assessment & Accreditation by NAAC – Issues and Challenges" Organized by RCASC-IQAC April 9th 2019.
Institutional social Responsibility in Community outreach activities: a case study on M S Ramaiah College of Arts Science and Commerce International Conference Organizing committee De Novo '16 School of Social Work De Paul Institute of Science & Technology Angamaly Kerala.
Appliance of Rapd Barcodes in Delineating Genetic Variations of Lynx Spider PeucetiaviridanaPopulations of Karnataka.International Conference (7th Oct 2017) Avanth-Grade International Conference Organized by Sheshadripuram first grade college Yelahanka.
CONFERENCES/ SEMINARS/ WORKSHOPS / TRAININGPROGRAMS / OTHERS - ATTENDED
A FIVE DAY INTERNATIONALONLINE WORKSHOP PROGRAM ON "Quantitative Genetics and Genomics in Plantbreeding" 23rd – 27th November, 2020.Organized by Department of Biotechnology, Vignan's Foundation for Science, Technology & Research,Vadlamudi-522213, Guntur, and Andhra Pradesh, India.
Online Training "Artificial Intelligence in Biological Research" on 30th August 2020.
National Conference on "SMART SUMMIT – 2020" (Science, Medicine, Agriculture, Research and Technology)& Pearl Foundation Educational Excellence Awards to Higher Education in India 2018 – 2019
One week work shop "Evolutionary, Classical and Molecular Genetics of Drosophila" DST Unit on Evolution and Genetics, Department of Studies in Zoology, University of Mysore.25th May – Jun2009
Mushroom cultivation and marketing 3rd and 4th March 2010 conducted by Department Horticulture , Center for Biotechnology, Hulimavu , Bangalore-560076
Research Methodology, Statistical techniques and Use of Statistical Software 2week workshop organized by department of statistics, Bangalore University. April-May 2013.
Molecular Biology course work on PCR and Hybridization 14th -15th mar 2014. At Aristogene Biosciences
Training programme on Research Methodology, Data Management and Biostatistics using Web based Statistical Software. Conducted by ChanRe Health Care Research Pvt. Ltd, 4th and 5th August 2012.
Inter-State Youth Red Cross Study-Cum-Training Camp 18th to 22nd February.2013. Organized by Indian Red Cross Society Odisha State Branch. At Red CrossBhavan, Bhubaneswar.
All the training and workshops organized by M.S.Ramaiah college of Arts, Science, Commerce. From 2006 to till date.
International conference on environmental pollution, water conservation and health July 29-31, 2010, Bangalore, India. Organized by department of zoology, Bangalore University Bangalore.
Bangalore India Bio 06-08 2012 International Conference, Organized by the Department of Information, Science and Bio- Technology, Government of Karnataka.
U G C Sponsored 2 day National Conference on The role of IQAC in Re-accreditation process: Experiences and Expectations 23rd and 24th January 2009.organized by K L E. Society's BasavaprabhuKore arts, Science and commerce college, Chikodi.
U G C Sponsored 1day National Conferenceon Emerging Protein Technologies for Formulation Solutions. 16th OCT 2014. Organized by Department of microbiology, University College of Science Tumkur University, Tumkur.
All the National conferences organized by M.S.Ramaiah college of Arts, Science, Commerce. From 2006 to till date.
INVITED RESOURCE PERSON
Resource person for Indian Red Cross Society, workshop/Training programmes held at Davengere, Shivamogga, Gulbarga Universities and IRCS Bhavan Race course road Bangalore. To train YRCW and NSS volunteers to effectively carry out social service activities under Youth Red Cross Wing and NCC at colleges.
EXTRACURRICULAR ACTIVITIES
Question paper setter for UG and PG Biotechnology and Genetics
External examiner for different colleges in Bengaluru (2007 – till date).
Bangalore University Squad for two term (2010, 2013).
BOE for Bangalore University 2015-till date
IQAC member of college since 12 years (till date).
Member of college examination committee since 7 years.
Member of Proctoral committee in the college (till date)