NCC ARMY WING
Introduction
National Cadet Corps (NCC) is engaged in grooming the youth into disciplined and patriotic citizen. The NCC programme of the college plays an important role in installing discipline as well as preparing students for productive citizenship.
The NCC is the largest uniformed youth organization. Its motto is 'Unity and Discipline'. NCC is second line of defence. Ramaiah College of Arts, Science and Commerce offer the training under Army Wing of the National Cadet Corps since 2003.
Affiliated Unit: 8 Karnataka Battalion NCC, Cunningham Road, Bengaluru
Division: Senior Wing SD/SW
Authorized Strength: 108
Group: NCC Gp HQ 'B' Bengaluru
Directorate: Karnataka & Goa
Eligibility: First year Degree (UG) Students
Certificates: After 2 years of training – 'B' Certificate, 3 years of training – 'C' Certificate
Training
Training:
Total training period for SD and SW is 3 years with an extension of 1 year permissible & training. Every cadet has undergo training for a minimum period of 75% of total hours during the annually. Every cadet have attend minimum one camp to appear for 'B' Certificate exam and two camps 'C' Certificate exam. The total number of parades in a year is eighteen. The regular parades include training in practical and technical.
Common Camps:
Combined Annual Training Camps (CATC)
National Camps:
Youth Exchange Program (YEP)
Republic Day Camp (RDC)
All India Thal Sainik Camp (AITSC)
Ek Bharath Shreshtha Bharath (EBSB)
Basic Leadership Course (BLC)
Advance Leadership Course (ALC)
Army Attachment Camp (AAC)
Rock Climbing Training Camps (RCTC)
Adventure Activities Camp (AAC)
ANO Message
Our Company 5/A is affiliated under 8 Kar Bn., Bangalore 'B' Group with good track record of excellence in training cadets for molding their character to become a good citizen as well motivating them to take-up the Armed forces as their career. I am wishing all cadets who were enrolling under our Company to enhance the skills and make use of Opportunities in Nation Building.
Jai Hind!
Lt. MAHESH G
NCC Army Profile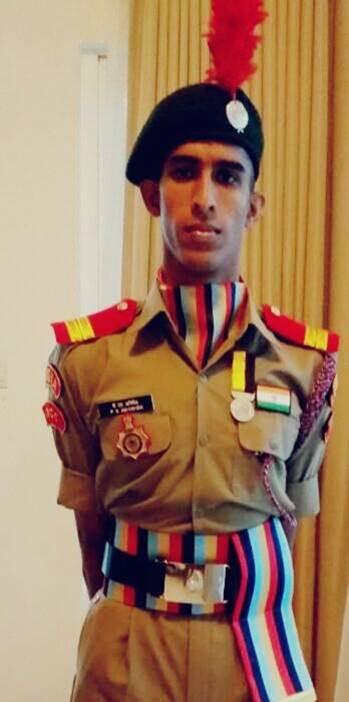 NCC ARMY WING
Company:
5/A
Affiliated Unit:
8 Karnataka Battalion NCC
Division:
Senior Division /Wing (SD/SW)
Sanctioned Strength:
108 (65% Senior Division & 35% Senior Wing)
Current strength
1st Yrs: 36 | 2nd Yrs: 36, | 3rd Yrs: 36
Year of Inception:
2003
Group:
Bengaluru 'B
Directorate:
Karnataka & Goa
Achievements
| Sl.No | Rank | Name | Camps | Year |
| --- | --- | --- | --- | --- |
| 1 | CDT | ABHISHEK | YEP(SRILANKA) | 2016 |
| 2 | CJUO | A VISHWAMBHARI | TSC | 2018 |
| 3 | SUO | B.P SAI KOUSTUBHA | RDC | 2020 |
| 4 | CSUO | PRATHAP S | RDC | 2012 |
| 5 | SGT | CHADER BHUSHAN | TSC | 2012 |
| 5 | CDT | MUSHRAF BASHA | RDC | 2023 |
Activities
| YEAR | NCC ARMY WING |
| --- | --- |
| 2018 | 18 |
| 2019 | 31 |
| 2020 | 32 |
| 2021 | 32 |
| 2022 | 36 |
| TOTAL | 149 |