NCC AIR WING
Introduction
The NCC is the largest uniformed youth organization. Its motto is 'Unity and Discipline'. NCC is second line of defence. Ramaiah College of Arts, Science and Commerce offer the training under Air Wing of the National Cadet Corps since 2016.
Affiliated Unit: 1 (Karnataka) Air Squadron NCC, Jakkur Aerodrome, Bengaluru- 560064
Division: Senior Wing SD/SW
Authorised Strength: 50
Group: NCC Gp HQ 'B' Bengaluru
Directorate: Karnataka & Goa
Eligibility: First year Degree (UG) Students
Certificates: After 2 years of training – 'B' Certificate, 3 years of training – 'C' Certificate
Training
Training:
Total training period for SD and SW is 3 years with an extension of 1 year permissible & training. Every cadet has undergo training for a minimum period of 75% of total hours during the annually. Every cadet have attend minimum one camp to appear for 'B' Certificate exam and two camps 'C' Certificate exam. The total number of parades in a year is eighteen. The regular parades include training in practical and technical.
Activities:
Gliding
Micro lite Flying (generally ZENAIR CH 701 STOL AC)
Attachment training with Air force Stations/Establishments
Parasailing
Trackking
Range Firing (.22 Rifle)
Skeet Shooting (Double-Barrele Breech Lock- Shotgun) etc.,
Common Camp:
Combined Annual Training Camps (CATC)
National Camps:
Republic Day Camp (RDC)
All India Vayu Sainik Camp (AVISC)
National Integration Camp (NIC)
Advance Leadership Course (ALC)
Air Force Attachment Camp (AAC)
Rock Climbing Training Camps (RCTC)
ANO Message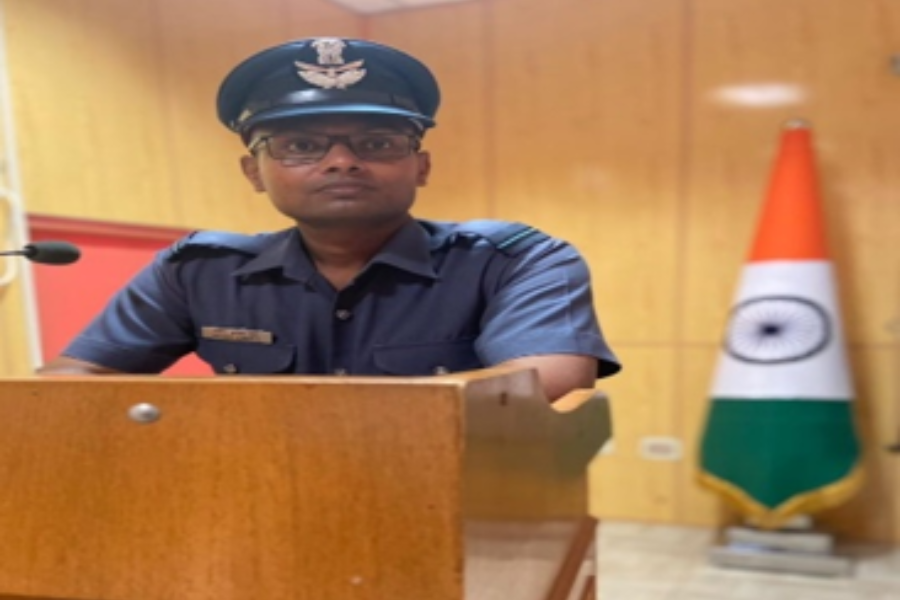 Our Flight is affiliated with one of the India's renounce NCC air squadrons amongst the NCC Organization. It is ornamental in creating self-discipline, Air-mindedness and spirit of adventure amongst youngsters and motivating them for take-up career in the field of Armed Forces. I convey my warmest wishes to all NCC cadets who are enrolling in our Flight and wishing them luck in all of their future endeavors.
Jai Hind!
Flg Offr (Dr) NAVEEN KUMAR R
(DDG commendation )
NCC Air Wing Profile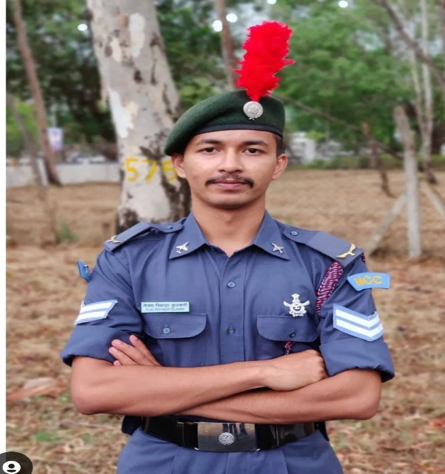 NCC AIR WING (FLYING BRANCH)
Affiliated Unit:
1 Karnataka Air Squadron NCC
Division:
Senior Division /Wing (SD/SW)
Sanctioned Strength:
50(65% Senior Division & 35% Senior Wing)
Current strength
1st Yrs: 21 | 2nd Yrs: 14, | 3rd Yrs: 15
Year of Inception:
2016
Group:
Bengaluru 'B'
Directorate:
Karnataka & Goa
Achievements
| Sl.No | Participated In | Level | Award / Medal | Regimental No. | Rank | Cadets Name | Class | Remarks |
| --- | --- | --- | --- | --- | --- | --- | --- | --- |
| 1 | All India Vayu Sainik Camp (AIVSC) – 2018 | National | - | KA/17/SWF/100337 | Cdt | Sana Kousar | BBA | - |
| 2 | All India Vayu Sainik Camp (AIVSC) – 2018 | National | - | KA/17/SWF/100338 | Cdt | Chaitali V Pujar | BE ECE | - |
| 3 | Republic Day Camp (RDC) – 2019 | National | Commendation and Gold Medal by Deputy Director General, New Delhi and Karnataka & Goa Directorate | KA/17/SDF/100322 | C/Sgt | Akash A | BSc ELE | Karnataka-Goa NCC cadets win coveted PM's Banner – 2019, after 15 years. |
| 4 | All India Vayu Sainik Camp (AIVSC) – 2019 | National | - | KA/18/SD/F/100341 | Cdt | Aakash Sahay | BCA | - |
| 5 | All India Vayu Sainik Camp (AIVSC) – 2019 | National | - | KA/18/SD/F/100347 | LFC | Harish Kumawat | BBA | - |
| 6 | All India Vayu Sainik Camp (AIVSC) – 2019 | National | - | KA/18/SW/F/100305 | Cdt | Anamika Kumari | BBA | - |
| 7 | Republic Day Camp (RDC) – 2020 | National | - | KA/18/SD/F/100345 | C/Cpl | Somnath Banerjee | Bcom | - |
| 8 | All India Vayu Sainik Camp (AIVSC) – 2022 | National | Parade Commander(AIVSC), Commendation and Gold Medal by Deputy Director General Karnataka & Goa Directorate | KA/20/SD/F/100337 | CUO | Tejas Vidyadhar Kulkarni | BCA | Skeet shooting Best Firer |
| 9 | All India Vayu Sainik Camp (AIVSC) – 2022 | National | - | KA/20/SW/F/100343 | C/Sgt | Meenakshi Anoop | B.Sc | - |
| 10 | All India Vayu Sainik Camp (AIVSC) – 2022 | National | - | KA/20/SD/F/100336 | LFC | Sanket Sudheer Hegde | BSc | - |
| 11 | All India Vayu Sainik Camp (AIVSC) – 2022 | National | - | KA/21/SD/F/100301 | C/Cpl | Prekshith H V | B.Sc ELE | - |
| 12 | All India Vayu Sainik Camp (AIVSC) – 2022 | National | - | KA/21/SD/F/100350 | Cdt | Krishnan A | BBA | - |
Activities
YEAR
NCC AIR WING
(FLYING BRANCH)
2018
15
2019
17
2020
16
2021
14
2022
12
TOTAL
74