Centre for Holistic Education
A strong need exists to develop a more comprehensive strategy, an enriching fusion of academics and value efforts. The basic core of value education is a comprehensive awareness of this wonderful nation and its amazing culture. The transmission of these tried-and-true principles is what completes education. This moral approach assists children in developing into moral and socially responsible individuals. These enduring principles serve as the cornerstone upon which a country can build its path to prosperity and peace. On October 10, 2014, the Center for Holistic Education was established with this objective in mind. It presents unique lectures and discussions on gender, holistic education, human values, and current concerns impacting the nation's youth. It also hosts activity-based personality development seminars and celebrates days such as Vivekananda Jayanthi, National Youth Day, Gandhi Jayanthi, etc.
Objectives
To tap the inner potential by building self-confidence and self-esteem in students
To encourage students to work for the benefit of themselves and society.
To evolve students into good leaders in their chosen fields.
Develop the spirit of patriotism and love for the country.
Develop a love for learning and a curiosity for knowledge.
Equip the students with values and skills to face the challenges in their personal and professional lives.
Convenor:
Dr. Anuradha Ramanna
Associate Professor
Department of Humanities
DISHA Coordinator:
Mrs. Yamuna S
Assistant Professor
Department of English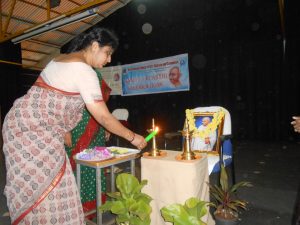 ACTIVITIES
Talk on Women Empowerment and Rights and Duties by Ms. Rama Devi, District Legal Services Authority, Civil Courts, on 2 February 2014.
Gender Sensitization programme for the B Com students on 8 April 2014. Pro. V.S. Elizabeth, Professor of History, National Law School of India University, Bangalore was the Guest Speaker.
Gandhi Jayanthi Celebrations and Inauguration of the Centre for Holistic Education 10 October 2014
Campaign on the Right to Water and Against Privatization of Water in Karnataka, Address by Dr. Kshitij Urs, Regional Head, ACTION AID, Bangalore, 23 January 2015
Workshop in collaboration with Ramaiah College of Law. 9 April 2015
Vivekananda Jayanti, 18 January 2016, Mr. Tejasvi Surya Addressed the Gathering
DISHA Workshop on Myself, My Nation and My Culture, B A Students, 02/16/2016
Talk on Importance of Human Rights on 18 July 2016. The Speaker was Mr. Vasudeva Sharma, Executive Director, Child Rights Trust, Bangalore
Celebrated Vivekananda Jayanthi, 01/20/2017
Talk on Ambedkar- His Political ideas and their Relevance by Prof. Haragopal, Visiting Faculty, NLSUI, Bangalore on 12 April 2017
Workshop on Human Values in Collaboration with Ramakrishna Mission, Bangalore, 11 July 2017
Professor Jeevan Kumar, Professor of Political Science spoken the relevance of Gandhi's Ideas in Today's Times on 5 October 2017.
Two-Day Workshop on " Holistic Personality Development" was conducted on 06/03/2018 for B Com, 07/03/2018 for B Com, B Sc, and M Sc students and on 15/03/2018 for MBA students in association with DISHA Charitable Trust for Value Initiatives
Rekha, DISHA Charitable Trust for Value Education, addressed the students on 21 March 2018 on Human Values in Education.
Value-Based Education-A Pressing need for Contemporary Times- A talk by Dr. Ajay Gudavarthy on 17 August 2018
In Collaboration with DISHA Charitable Trust for Value Initiatives celebrated Vivekananda Jayanthi on 21 January Shri. Vinay KR and Shri Pramod of DISHA conducted the programme
National Youth Day In Collaboration with DISHA Charitable Trust, 02/06/2019, Shri. Sulibele Chakravarthy addressed the Gathering.
Guest Lecture on Sustainable Development by Prof. Lakshman, Professor of Political Science. Vivekananda Degree College, Bangalore, on 15 March 2019.
In collaboration with DISHA Charitable Trust for Value Initiatives conducted a three-day workshop on "My Self. My Country and My Culture" Orientation for the First Year Degree Students on 20th , 23rd, and 24th of September 2019
Vivekananda Jayanthi on 22 January 2020 in the A P J Abdul Kalam Auditorium. The programme was conducted in collaboration with Samarth Bharat. The Speaker of the day was Dr. Giridhara Upadhyaya, Professor of Microbiology, Kempegowda Institute of Medical Sciences, who spoke on the contemporary issues that are bothering the youth in today' times.