DR. VASANTH KUMAR BHASKARA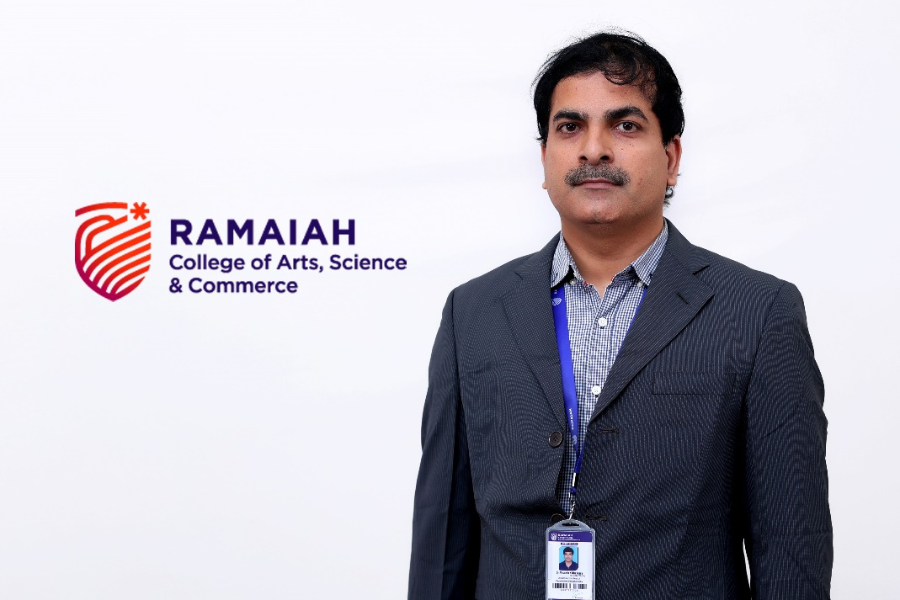 Name:
Dr. Vasanth Kumar Bhaskara
Designation:
Assistant Professor
Qualification:
M.Sc (NDRI-ICAR); Ph.D (Hyderabad Central University); PDF (USA)
Year of Joining:
2014
Work Experience:
19 Years of Research & Teaching
RESEARCH
Ph.D Thesis Title: "Modulated cell proliferation, cell death and survival signals in human and N-Ethyl n-nitrosourea (ENU) induced rat gliomas" (Awarded year: 2008)
PUBLICATIONS
Bhaskara, V. K., Mittal, B., Mysorekar, V. V., Amaresh, N., & Simal-Gandara, J. (2020). Current research in food science, 3, 284–295.
Bhaskara VK, Jayaram C, Priyanga M, et al., J Cancer Res Ther. 15(5):1162–1166; 2019.
Pandey V, Bhaskara V K, Babu P P., J Neurosci. Res. Oct, 2015.
Bhaskara VK, Nagarathna Amaresh, and Ajay Rana. MSR Journal of Sciences 1(2): 117-24; 2015.
Bhaskara VK, Mohanam I, Gujrati M, and Mohanam S., Plos One 2014 Aug 22;9(8):e105555.
Bhaskara VK, Mohanam I, Rao JS and Mohanam S., Plos One 7(2), 2012.
Bhaskara VK, Panigrahi M, Challa S, Babu PP., Neurology In. 57(3): 264 – 268, 2009.
Bhaskara VK, Challa S, Babu PP., Neurochemical Res. 31(9): 1163-70, 2006.
Bhaskara VK, Panigrahi M, Challa S, Babu PP., Neuropathology, Mar: 25(1):48-53, 2005.
Research PROJECTS
PG projects guided (Bangalore University): 16 Number of students with total 7 different MSRCASC funded projects
Received Seed Money Grant for pilot project on "Molecular characterization of cancer stem cell resistance in Triple Negative Breast Cancer project (2020 to 2022) Collaboration – Prof. Vijaya M Mysorekar, Pathology/CRL, MSRMCH Students of this project - AISHWARYA NITIN KAMBKE (Reg.No #BC190001);
ASHWIN M (Reg. No #BC190003);
POOJA SREE REDDY S Reg. No #BC190006)
SUBJECT SPECIALISATION
Cancer cell biology (Functional Cell Biology)
Signal transduction
Proteomics
In vitro cell cultures
Flow Cytometry Analysis (FACS)
Primary cell culture establishment protocols
In vivo experimentation model systems of oncology
SEMINARS, WORKSHOPS AND CONFERENECES
Conference Proceedings (Selected):
Vasanth Kumar Bhaskara, Indra Mohanam and Sanjeeva Mohanam. Effect of hypoxia and intermittent hypoxia on Hif-1 alpha mediated neuroblastoma cell metastasis. Nationoal Symposium on an Integrated Approach to Diagnosis and Therapy in Cancer, mLA College for Women, Bengaluru, India 2017 (ISBN – 978-81-925437-6-5).
Raman, R., Kotapalli, V., Adduri, R. S., Bhaskara, V. K., Gowrishankar, S., Bashyam, L., ... & Bashyam, M. D. (2013, April).. In CANCER RESEARCH (Vol. 73, No. 8). 615 PHILADELPHIA, PA 19106-4404 USA: AMER ASSOC CANCER RESEARCH.
Poster presentation in the AACR 2012 conference held at Chicago (IL), USA (April, 2012).
Poster presentation in the AACR 2011 conference held at Orlando (FL), USA (April, 2011).
Co-ordinator:
Co-ordinator for Indian Academy of Sciences (IASc) sponsored lecture workshop in collaboration with Department of Molecular Reproduction Development & Genetics, IISc at MSRCASC (20th -21st Feb., 2018)
Co-ordinator of Biocon-Ramaiah Quality Control Analytical (QCA) program
Scientific Participations (Selected):
Participated in National Webinar on "Current Trends in Life Science" held on 27th to 30th July, 2020 organized by Department of Life Science, Bangalore University.
Participated in Faculty Development Program on "Studying Gene Expression using Genomic Approaches – Bulk to single cell expression analysis" held on 23rd and 24th July, 2020 by REVA University.
Participated in Science Academies sponsored Science Leadership Workshop held on 22nd to 28th June, 2020 organized by Central University of Punjab, Bathinda.
Participated in ICLCHS – 2019, international conference held on 24th to 26th October, 2019 organized by RCASC.
Participated in Indian Academy of Sciences sponsored lecture workshop on "Nanomaterials – Applications in Biotechnology" held on 29th to 30th August, 2019 organized by Department of Biotechnology, Ramaiah Institute of Technology.
Presented student work at Indo-Australian Symposium on "Epithelial-Mesenchymal Transition – New Advances in Cancer Development conducted by IISc (6th Oct., 2017).
Participated in Workshop on "Drug Discovery & Development Strategies" conducted by Department of Biotechnology, M.S.R.I.T, Bangalore (July, 2015).
Participated in Workshop on "Cytogenetics" by M.S.R. Medical College & M.S.R.S.C.A.S.C (April, 2015).
Poster presentation in the international conference held by Society for Biological Chemists (India) to be conducted by Indian institute of technology – Madras (December 2009)
Poster presentation in the International Symposium on Translational Research: "APOPTOSIS & CANCER", held at Trivandrum (India) conducted by University of Kerala and University of Texas (MD Anderson Cancer Centre) (December – 2005)
Poster presentation in the symposium – emerging concepts of the brain held at National centre for Biological Sciences, Bangalore, India (March – 2005)
AWARDS AND RECOGNITION
Recipient of NDRI JRF (2002)
Recipient of CSIR-UGC JRF/SRF (NET Qualified) (2002 to 2006)
Recipient of CSIR Pool Officer (Senior Research Associate Fellowship) (2012-14)
Best oral presentation award for the paper entitled "Intermittent hypoxia (IH) induced HIF-1α effects on cancer stemness in neuroblastoma" at ISCA-RCASC National Conference – Bioblooms on 5th to 7th October, 2015.
CONTACT
Email:

vasanth_chem@msrcasc.edu.in
Department Chemistry/Biochemistry

Address:

MSRCASC, Bangalore 560054
India